Want to buy a Davie Florida home or condo?
If you're considering buying a home, townhouse or condo here in Davie, you'll find a wealth of information on the various Davie communities and neighborhoods. If you'd like us to help you save some time searching, we can narrow down the selection and find just the right home for you... simply give us your home wish list and we'll let you know which homes for sale meet your needs based on the criteria you provide. This can include showing you Davie FL short sales and foreclosures.
Whether you're relocating to the Davie Florida area and looking for your first home, a luxury home in a gated community, or an affordable Davie condo or townhome while you are going to one of the colleges/universities, we can guide you through the entire purchase process. Perhaps you're looking for income-producing property to add to your real estate investment portfolio, or Davie vacant land to build your dream home, or simply want to buy a pet-friendly condo... we can find those, too! Remember, you can always search Davie MLS listings on your own at anytime and if you find specific properties you'd like to see in person, fill out the request listing information form. We'll be happy to set up showing appointments and answer any questions you may have about a condo, townhouse or home in Davie you found on the MLS or even if you just saw a "home for sale" sign while driving around (just remember to take down the address). We can also assist in getting you pre-qualified or pre-approved for a mortgage.
Are you interested in buying a short sale property? We are local real estate agents who can show you any MLS listings of Broward County short sale homes and condos.
Want to keep up with Broward County and Davie Florida real estate market conditions? Whether you're a home buyer or home seller, subscribe to our free real estate e-newsletter. It's filled with helpful articles about buying, selling and local market conditions. Be sure to also visit our buyer guide for a list of useful resources.

www.DavieFlaHomes.com
Your Best Source for Davie Florida Real Estate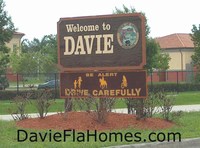 Davie, Florida... a great place to live!
Location: Located in central Broward County, the Town of Davie shares its borders with Fort Lauderdale and Dania Beach to the east, Cooper City and Southwest Ranches to the south, and Weston to the west.
Employment: Several major employers have called Davie home for many years (including the South Florida Educational Center) and we continue to attract more and new businesses every year. Davie is also convenient to many centers of business throughout South Florida.
Education: The quality of education is a priority to many residents in Davie. Educational offerings run the gamut from day care centers to both public and private elementary, junior and high schools. Those interested in a post-secondary education have several options to pick from, many of which are located within town limits.
Shopping: The shopping districts in and around Davie are varied and each offers something for everyone. There are several local shopping centers offering a nice blend of retail, service and eateries -- you're likely find what you're looking for within the town's boundaries.
Quality of Life: A great residual benefit to living in Davie Florida is that we are just a short distance from much of what the tri-county area offers in the way of arts, entertainment, attractions, parks and recreation.
Want to sell your Davie Florida home or condo?
If you have Davie real estate to sell, the best place to start is by finding out how much your property is worth. Fill out our Davie FL home value request form so we can perform a property value analysis based on recent closed sales of properties comparable to yours. Let us show you how we can make a difference when you're ready to sell your Davie home, townhouse or condo.
If you need to sell your house in order to move but find that you owe your lender more than your home is worth, we can guide you through the Broward County short sale process. Even if you're a homeowner who has fallen behind on your mortgage payments... there are a variety of reasons why it's better to list and sell your property as a short sale than to reach the point where the bank pushes a foreclosure of your home.
Do you want your home marketed to prospective buyers in the best possible manner? We are Davie FL Realtors who will market your home and all it's features on 15+ of the most visited regional and national web sites providing more extensive exposure of your home to more buyers than the average agent. The larger the pool of buyers your home is exposed to, the more likely your house will sell more quickly and get the best price possible for your home.
Why restrict the marketing of your home to the traditional methods of just placing it on the MLS (Multiple Listing Service) with just a couple of photos and installing a sign in the front yard when there are so many more methods available? We typically take 75-150 photos of each of our listings, then pick only the best photos to market your house... and that's just the beginning! All Realtors are not alike. The marketing plan for all our listings includes a virtual tour, a computer-generated floor plan, full color feature sheets and more! We work hard to ensure maximum market exposure of your home for sale. Let us show you how we can make a difference!

Home | Search MLS Listings | Home Wish List | Davie Communities | What is Your Home Worth? | Buyer Guide | Contact Us
Leanne Paynter • (954) 846-1600 • United Realty Group, Inc.
Broker-Associate • Davie Florida e-PRO Certified REALTOR® • Graduate Realtor Institute
Member National Association of Realtors (N.A.R.) • Member Florida Realtors • Member Realtor Association of Greater Fort Lauderdale
Copyright© 2002-2012 Leanne Paynter. All rights reserved. No portion of this web site, including graphics or text, may be reproduced
in any manner without the prior written consent of the copyright holder. By using this site you agree to its Terms of Use and Privacy Policy.
SITE DISCLAIMER: All information contained herein is deemed reliable but cannot be guaranteed. To be certain, you should independently verify. If in doubt, consult with an appropriate professional.

Broward County Home Values : Florida MLS Listings : Broward County Real Estate : Plantation FL Homes : Weston FL Real Estate : Cooper City Real Estate : Fort Lauderdale Condos : Pompano Beach Condos
Boca Raton FL Real Estate : Lake Worth FL Real Estate : Wellington FL Homes : South Florida Commercial Real Estate : Broward County Commercial Real Estate : Florida Home Values : 610 Clematis Street West Palm Beach
Northwest FL Real Estate : Florida Panhandle Real Estate : Jacksonville FL Real Estate : Marco Island FL Real Estate : Jupiter Florida Real Estate : Real Estate Agent Directory
This site features Davie Florida real estate, homes for sale and real estate for sale in Davie. You can also search for Broward County Real Estate. Search this site for real estate, homes, houses, condos, condominiums, villas, townhomes, townhouses, and rentals in the communities of Davie Florida including Alhambra Circle, Alpine Woods, Alpine Wood Estates, Arista Park Townhouses, Arrowhead Condos, Arrowhead Golf and Tennis Townhomes, Brentwood, Cimarron, Colonial Lakes Villas, Country Pines, Courtyards at Davie, Davie Manor Townhomes, Delwood, Emerald Isles, Eton Countryside, Evergreen at Pine Island Ridge, Gardens at Pine Island Ridge, Halstead Apts. Condos, The Village at Harmony Lakes, Harvest, Hobbs Manor, Isla Merita, Jasmine Lakes, Lagoon Place at Pine Island Ridge, Les Chateaux, Live Oak at Pine Island Ridge, Madison Lakes, Nova Gardens, Nova Hills North, Nova North, Nova Place, Nova Townhouses, Nova Village, Pine Island Ridge, Poinciana Parc, Poinciana Place at Pine Island Ridge, Reflections, Ridgewood at Pine Island Ridge, Rolling Hills Golf and Tennis Club, Royal Grand, Sabal Palm at Pine Island Ridge, Saddle Bridge, Saddle Up, Scarborough Townhomes, Serenity Palms, Southwood Townhomes, Stirling Villas, Sundance, Tangerine at Pine Island Ridge, The Escape at Arrowhead, The Mews at Arrowhead, Townhomes at Orange Drive, University Parc, University Village, Valencia Village, Village at Lake Pine, Villas of Arista Park, Villas of Palomino, Villas of Rolling Hills, Whitehall at Pine Island Ridge, Willow Grove and Woodvale at Pine Island Ridge.

Also search this site for real estate, property, properties, homes, houses, land and rentals in the communities of Davie Florida including 99 Pines, Arboretum, Arrowhead Country Homes, Arrowhead Golf and Tennis Club Homes, Blackhawk Ranches, Blackhawk Reserve, Calico Country, Carlton Ranches, Chelsea at Ivanhoe, Country Creek, Crystal Grove Estates, Driftwood Estates, Emerald Isles Estates, Emerald Springs, Estates of Stirling Lake, Exotic Acres, Falcon's Lea at Ivanhoe, First Impression, Forest Ridge, Grand Oaks Estates, Grove Estates, Harmony Estates, Hawke's Bluff, Hiatus Isles, Hidden Cove, Highland Ranch Estates, Isla Merita, Imagination Farms, Kapok Estates, Lake Estates at Rolling Hills Country Club, Lakeside Village at Davie, Laurel Oaks, Lawson Isles, Long Lake Estates, Long Lake Ranches, Marlboro Estates, Mystique Estates, New Providence East, Nob Hill Palms, Northstar Estates, Nova Homes, Oak Hill, Oak Knoll Estates, Oak Knoll Ridge, Oakwood Estates, Olde Bridge Run, Orange Tree Lakes, Parkwood Isle, Pasadena Estates, Phoenician Cove, Pine Island Bay, Playland Village, Poinciana Parc, Ridgeview Lake Estates, Riverstone, Rolling Hills Lake Estates, Royal Palm, Saddlebrook, Scarborough, Shenandoah, Stirling Lake, Stonebrook Estates, Summer Lake, The Crossbow, The Ridge on Nob Hill, Vista Filare, Vista Lakes, Waterford at Ivanhoe, Waverly 100 at Ivanhoe, Westridge, Whispering Pines, Windfield Estates, Winding Ridge, and Woods of Rolling Hills.